I'm feeling extremely discombobulated this week (I just LOVE that word!) So I thought I'd do my wrap up totally different.
Things I/we're loving this week:
Nicer weather - It's been in the 60's and 70's. Though why my daughters think that means they should be outside playing in the water hose is beyond me.
Our little CC group - We made the decision last year to jump ship from a much larger and more established CC community to a brand new and much smaller community. It was a stressful decision making process over the summer. But my 10 year old said it best today: "Everyone in my class is my friend. Last year there were lots of people in my class, but none of them were my friends." That is the difference. And honestly, I feel pretty much the same way about the adults.
My Bible study group - The funniest, most supportive group of women I've ever known. I am amazed that God took this introvert and placed me in the midst of these women. If you had asked me 10 years ago if I would have been comfortable in a group like this, I would have laughed out loud. Thank God for not allowing us to stay where we are.
Things I / we're not loving this week:
Headaches - my headaches are back with a vengeance. I go for a second epidural shot in my neck next week. In the meantime, I'm dealing with obnoxious neck and head pain.
Technology - my kids have spent way too much time with their faces stuck in their Kindle Fires or laptops this week! We are pulling the plug on this. Be prepared for the scream heard 'round the world.
Escaping dog - our dog, Bernie has made it his mission in life to escape from the backyard fence by any means possible. So far these include pushing, climbing, digging, and teleporting. (My kids say no to the last one, but I'm not convinced.) It's become quite the battle of wills between the kids and the dog.
Things I/we're did this week:
It's Girl Scout cookie time, which means it's cookie booth time. Which is where you'll find us pretty much every weekend from now until the middle of March.
Today ended up being a mom and Sarah afternoon when I had to take Sarah for a follow-up at the allergist. She talked me into lunch at Ci-Ci's pizza (yuck!). It was nice to chat with just her. Wow, is she growing up. She was sharing things with me about conversations with her friends that I didn't realize she was having. Nothing inappropriate, but I didn't realize we had gotten to that stage of life yet. Sigh. This needs to happen way more often...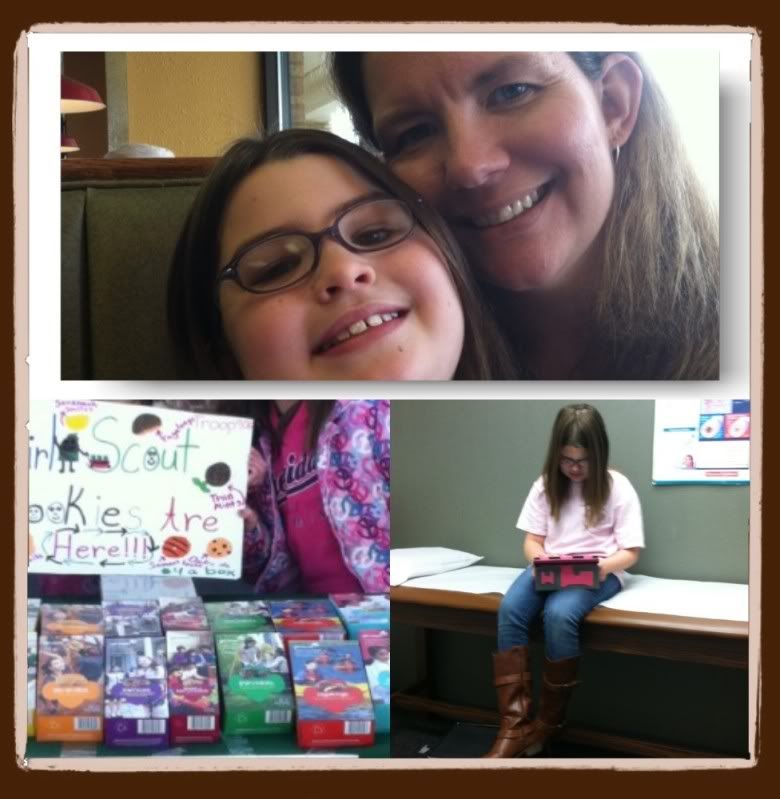 What am I/ we reading?
As a family we're reading Prince Caspian. The two older kids keep commenting on what is different or the same about the book verses the movie. The youngest gets mad and points out how she hasn't seen the movie so they need to be quiet! Ah, fun times.
I'm still in my Gideon study by Priscilla Shirer. I'm also still working through The Core by Leigh Bortins. I've zipped through a few light reading titles recently, so feel free to check out my Goodreads page.
Oh, and one last picture. A "selfie" we took at lunch today. After we took it, my priss said, "Mom, put this one on your blog." Love that sweet girl.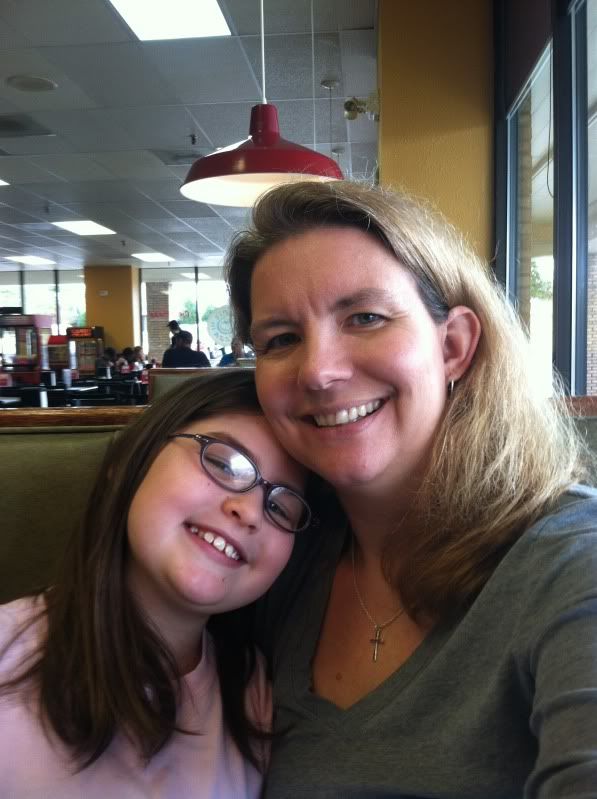 How was your week?