My baby is 7! I cannot believe it! He is becoming so grown up. He is so much like his daddy, sometimes I cannot get over it. I've taken to calling him "Little Chris" when he starts aggrivating me. His interests at this stage include the tv show "Ben 10", anything Star Wars, camping, Scouting, science, and annoying Sarah.
On his actual birthday, all the grandparents joined us for supper at Ryan's, a buffet style steakhouse that the kids love. We had the wait staff bring him a cake and sing "Happy Birthday". He was embarrassed but inside loved the attention. He gets that from me.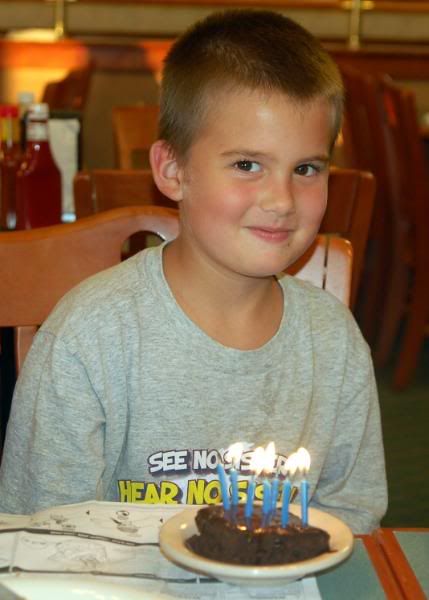 He got lots of presents that night that he loves. But his favorite was a B.B. gun from Daddy. Yes, I did say "you'll shoot your eye out!!"




The only thing he really wanted for a party was to invite his friends to our house for a sleepover. So we invited 8 of his friends to spend the night. I wasn't worried about the numbers because all of my friends said, "Don't worry! They won't all come." Yeah, right.

So we help our first campout sleepover with 9 boys aged 5-9. We did a campfire for hot dogs and s'mores. . .



Had a "cupcake bar" where they decorated their own cupcakes with icing and sprinkles.




Came inside for presents and a movie. . .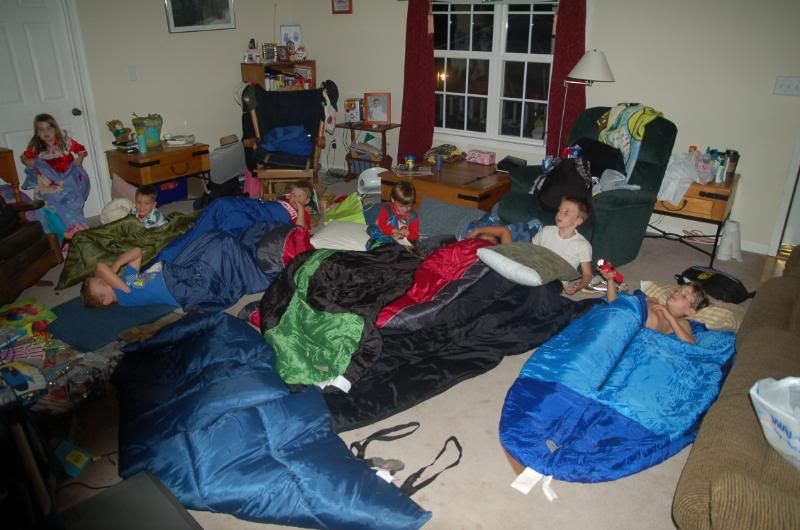 Then the boys all piled into our big tent to sleep. Daddy and Sarah slept in a two man tent right next to them. Mommy slept inside in the kingsize bed all by myself. Aaaahhh. . .

The next morning we filled 100 water balloons and the boys chased each other all around the yard in a full-out water balloon war.



John got totally soaked. It seems that all his friends thought he was a good target.



Overall they had a fantastic time and got along amazingly well. I have a feeling that our first girl sleepover won't be quite so easy. At least I have a few more years to prepare. . . I hope.