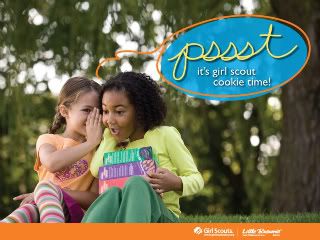 From Sarah:
I am selling Girl Scout cookies for my Daisy troop. They are super yummy! Would you like to buy some?
From Tina:
It's cookie time!! How many boxes do you want? Remember that part of the proceeds go directly to our Daisy troop. We're hoping to take a fun trip somewhere - like the zoo or Edventure Children's Museum.
I know that many of us are vowing to eat better this year. So I have a proposal for you. We are putting together a box of goodies to be sent to the 82nd Airborne group stationed in Iraq c/o my brother. We're also doing a box to go to a friend of his in Afghanistan. If you'd like to support our troop, but don't want the calories, you can sponsor some boxes to be included in the care package. The girls, the soldiers and your waist line will all thank you!